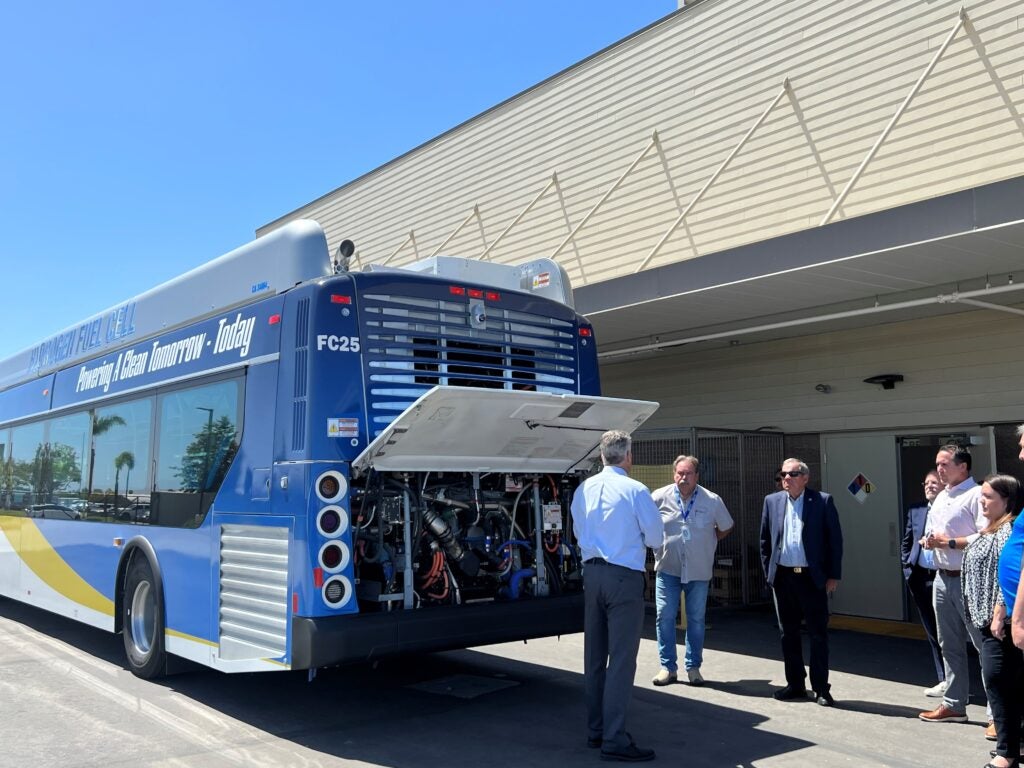 For Immediate Release: Thursday, August 18, 2022
(Oxnard, CA) – Gold Coast Transit District (GCTD) announced it has been selected as a recipient of a grant award from the U.S. Department of Transportation's Federal Transit Administration (FTA) in the amount of $12,117,144 to purchase hydrogen fuel cell electric buses, install a new hydrogen fueling station, and implement a robust workforce development and training program.
The grant award - made under FTA's Buses and Bus Facilities and Low and No-Emission Vehicle programs - is part of the FTA's announcement to invest $1.66 billion into 150 transit agencies across the nation, in efforts to meet President Biden's goal of net-zero emissions by 2050. The funding will be used to replace thousands of older bus models, with new zero-emission transit buses across the country. GCTD is one of 17 agencies selected to receive this grant in California.
"With today's awards, we're helping communities across America – in cities, suburbs, and rural areas alike – purchase more than 1,800 new buses, and most of them are zero-emission," said U.S. Transportation Secretary Pete Buttigieg. "Funded through President Biden's Bipartisan Infrastructure Law, this announcement means more good jobs for people across the country, cleaner air in our communities, and more affordable and reliable options to help people get to where they need to go."
GCTD will be partnering with New Flyer and the Center for Transportation and the Environment (CTE) to deploy five (5) 40' New Flyer hydrogen fuel cell electric buses (FCEBs), construct a hydrogen fueling station that will support at least 50 buses which allows for future expansion, and complete maintenance facility upgrades to add hydrogen detection and alarming capabilities. While GCTD currently has several electric sedans and vans, this grant will fund the first heavy-duty zero-emission buses in the fleet.
"GCTD has always been a leader in eco-friendly transportation," said Bryan MacDonald, Oxnard's Mayor Pro Tem and Chair of the GCTD Board. "We look forward to continuing our tradition by making headway toward transitioning to zero-emission vehicles."
This project also supports the City of Oxnard's draft Climate Action & Adaptation Plan goals by providing direct air quality benefits to over forty-four census tracts in Oxnard and Ventura that have high levels of particulate matter, ozone, GHG emissions burden. This project will result in a significant reduction in GHG emissions and an increase in green job opportunities in these areas. With this grant, GCTD will also work with employees to develop training programs that cover hydrogen technology as well as operating the new vehicles.
"This funding will allow GCTD to take a momentous step forward in realizing our vision – to provide equitable and environmentally responsible public transportation, connect people to opportunities, and prepare our workforce for a future in zero-emissions technology." said GCTD General Manager, Vanessa Rauschenberger. "I am especially thankful to the collaborative efforts of our employees, as well as community leaders and organizations who provided letters of support to the FTA to advocate for this grant award."
This award also builds on past projects aimed at expanding and making public transit more useful and attractive in the community. In June 2022, GCTD was selected by the Federal Transit Administration as one of 50 transit agencies to receive a Route Planning Restoration planning grant to identify areas in Ventura County that were affected by the decrease in service and frequency due to the COVID-19 pandemic, and to develop a plan to increase service frequency and ridership. The program also supports local efforts to increase the quality and frequency of transit service for lower-income riders and those in communities who may need more options to get to jobs, school, and health care.
"Public transportation is critical, even for those who do not currently use it. For Ventura County to grow economically and improve the quality of life for residents, we cannot rely solely on building wider roadways to accommodate more cars." said Rauschenberger. "We must prioritize moving people first, and do it equitably, responsibly and with the fewest emissions possible."
Learn more about GCTD's transition to zero-emissions and other future sustainability plans, including the upcoming Ventura County Clean Air Summit on Wednesday, October 12, 2022, by visiting GCTD's website.