Origin to Destination Transit for People with Temporary Disabilities
If you need to travel within Gold Coast Transit's service area and are experiencing a temporary disability which makes using fixed route service impractical, then GO Access Zones service may be for you.
Rides available daily from 7 AM to 7 PM, reservations required.
Rides must be scheduled at least one day before the day of travel.
Schedule by calling 805-485-2319 any day from 8 AM to 5 PM.
Additional Policies
Schedule day before service is needed.
Schedule permitting, same day service may be available.
Origin to destination transportation.
Zone service does not transfer to other services.
Please pay the appropriate zoned fare to the driver upon boarding.
Exact fare is required.
Fares may be paid with cash, Token Transit or e-fares.
Passengers are encouraged to request lift when necessary.
Must be at least 16 years of age.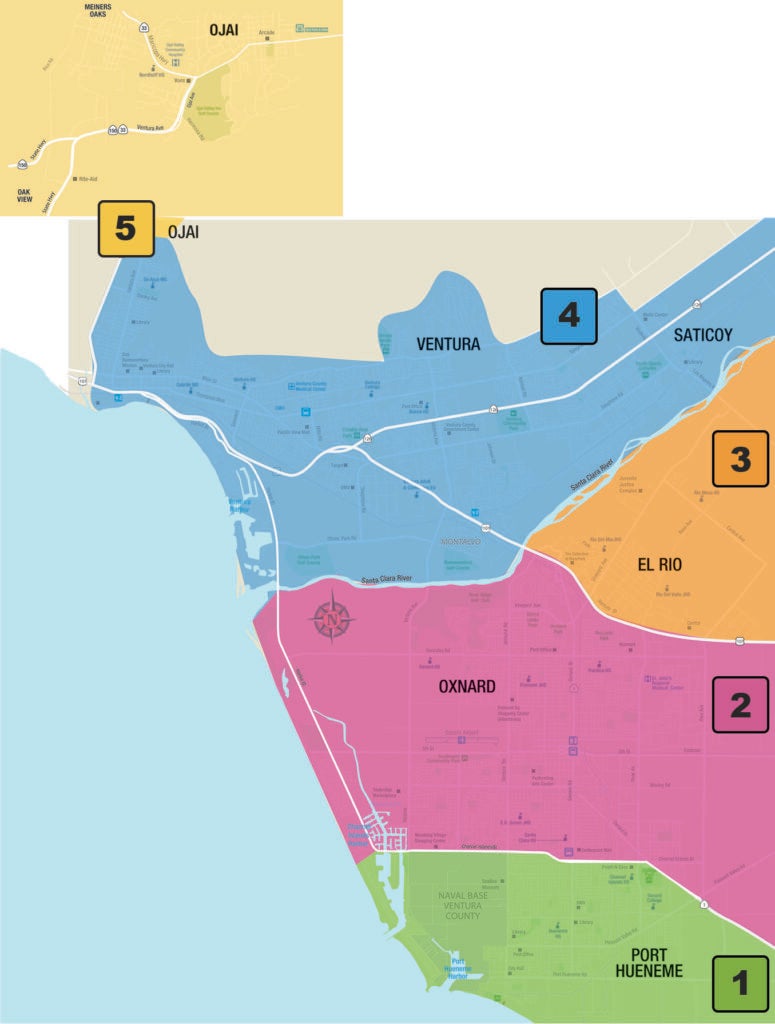 Service Zones & Fares Between Zones
Locate your origin and destination on the map, then look for the corresponding color pairings in the chart below to identify your one-way fare.
Start/Stop Zone 1
| Start/Stop | Start/Stop | 1-Way Fare |
| --- | --- | --- |
| Zone 1 | Zone 1 | $3 |
| Zone 1 | Zone 2 | $6 |
| Zone 1 | Zone 3 | $9 |
| Zone 1 | Zone 4 | $9 |
| Zone 1 | Zone 5 | $12 |
Start/Stop Zone 2
| Start/Stop | Start/Stop | 1-Way Fare |
| --- | --- | --- |
| Zone 2 | Zone 1 | $6 |
| Zone 2 | Zone 2 | $3 |
| Zone 2 | Zone 3 | $6 |
| Zone 2 | Zone 4 | $9 |
| Zone 2 | Zone 5 | $9 |
Start/Stop Zone 3
| Start/Stop | Start/Stop | 1-Way Fare |
| --- | --- | --- |
| Zone 3 | Zone 1 | $9 |
| Zone 3 | Zone 2 | $6 |
| Zone 3 | Zone 3 | $3 |
| Zone 3 | Zone 4 | $6 |
| Zone 3 | Zone 5 | $9 |
Start/Stop Zone 4
| Start/Stop | Start/Stop | 1-Way Fare |
| --- | --- | --- |
| Zone 4 | Zone 1 | $9 |
| Zone 4 | Zone 2 | $9 |
| Zone 4 | Zone 3 | $6 |
| Zone 4 | Zone 4 | $3 |
| Zone 4 | Zone 5 | $6 |
Start/Stop Zone 5
| Start/Stop | Start/Stop | 1-Way Fare |
| --- | --- | --- |
| Zone 5 | Zone 1 | $12 |
| Zone 5 | Zone 2 | $9 |
| Zone 5 | Zone 3 | $9 |
| Zone 5 | Zone 4 | $6 |
| Zone 5 | Zone 5 | $3 |