Riding During COVID-19
Latest Information About:
Free rides to vaccinations
Mask requirements
Additional riding procedure changes and safety precautions
GCTD has taken several actions in response to COVID-19 and the continuing public health crisis, all in an effort to address the immediate and long-term impacts of the pandemic on our public transit services.
In July 2021, the Board approved GCTD's COVID-19 Recovery Plan. The purpose of this document is to detail Gold Coast Transit District's efforts to assist in the revitalization of the health, social and economic fabric of our community and to have GCTD emerge as a more resilient organization following the COVID-19 pandemic. The plan was developed with input from the public, employees and includes recommended actions aligned with the California Transportation Association (CTA) Future of Transit task force report.
Face Masks & Other New Rider Rules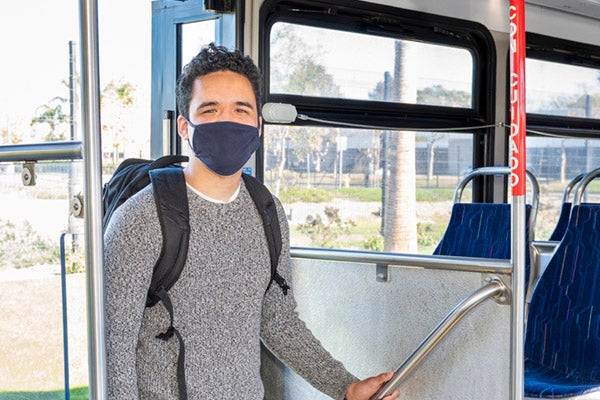 Face Masks Recommended
Per the CDC and local public health guidelines, GCTD strongly recommends the use of face masks upon boarding. Our bus operators and Customer Service Center have extra face masks for passengers as needed.  Faces masks are not required to board the bus.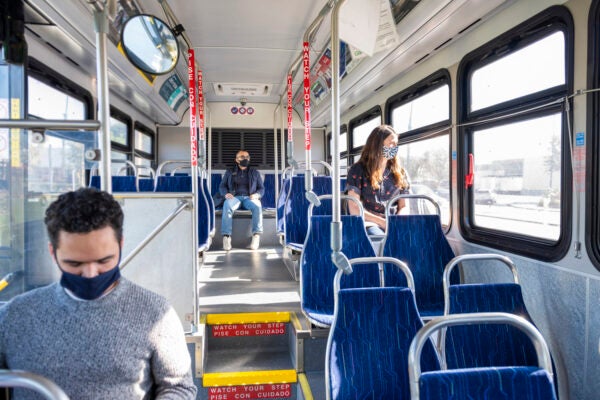 Socially Distanced Seating
Riders should observe social distancing rules when sitting down to the furthest extent possible.  Passengers are advised to stagger the rows and sides of the bus where they sit from other passengers.
Learn About The Federal Mask Mandate
In order to reduce the potential risk of spreading COVID-19 on public transportation, President Joe Biden issued an executive order on January 21, 2021, promoting COVID-19 safety in domestic and international travel. In order to effectuate this executive order, the CDC released a public health order ("Order") on January 29, 2021 requiring the use of face masks on nearly all forms of public transportation. The order took effect at 11:59 p.m. on February 1, 2021 and remained in effect until April 18, 2022. The CDC continues to recommend that people wear masks in indoor public transportation settings at this time.
For the latest updates about the federal mask order, please visit the CDC's website directly for detailed information.
Free Rides To Vaccination Appointments
Don't Wait, Vaccinate!
For a limited time, GCTD is offering free transportation to and from a vaccination site on its GO ACCESS vehicles for anyone with an appointment.
Individuals need to be at least 16 years of age
Have the name/address of the vaccination center out and ready
The vaccination site must be located within our service area
Schedule a ride at least one day in advance 805-485-2319 (reservation line is open 8am-5pm, 7 days a week)
It may be a shared ride; physical distancing and masks are optional
If you need more information on how to make an appointment for your vaccine, please visit Ventura County Recovers.
Fleet Care & Customer Service Changes
The District's administration office will be closed to the public until further notice. Lost and Found items can be retrived by appointment only, please call 805-483-3959, dial 0 for Operator. Customers can continue to communicate via the call center, the website's comments page, and social media.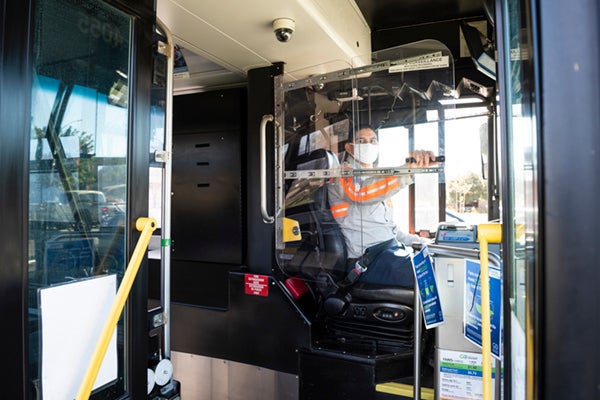 Plexiglass Shields Installed
Clear, protective Plexiglass shields are now installed around the bus operator compartment on all buses as an additional safety measure to protect the Operators who have continued to provide essential transportation services.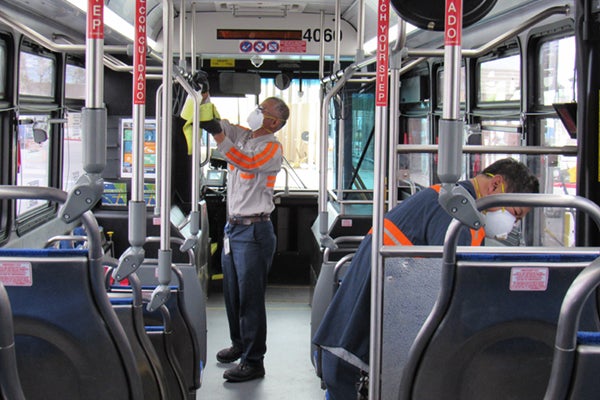 Cleaning Staff Expanded
GCTD has hired three full-time Fleet and Facility Cleaners to secure additional cleaning of high-touch surfaces such as grab bars, farebox, and bus operator compartment with disinfectant throughout the day both in the field and at the faculty each night.
Additional Safety Measures
Learn more about other measures being taken in response to the spread of COVID-19
The health and safety of our customers and employees is our top priority. We are following the recommendations of health expert organizations, including the Ventura County Public Health department and the Center for Disease Control and Prevention (CDC) and are continuing to monitor the issue very closely. As proactive measures, we are taking the following actions to ensure our customers and employees are prepared:
Established a multi-disciplinary task force to closely monitor events on a local, state, and federal level and follow the directives of the Ventura County Public Health office.
Placed visual alerts (signs and posters) provided by the CDC/ Ventura Public Health to help employees and customers reduce the risk of transmission.
Reviewing our facility's supply of hand sanitizer, gloves, masks and other personal protective equipment (PPE) and making plans to restock in the event of a shortage.