Try Contactless Payment Today!
Choose from one of the options below.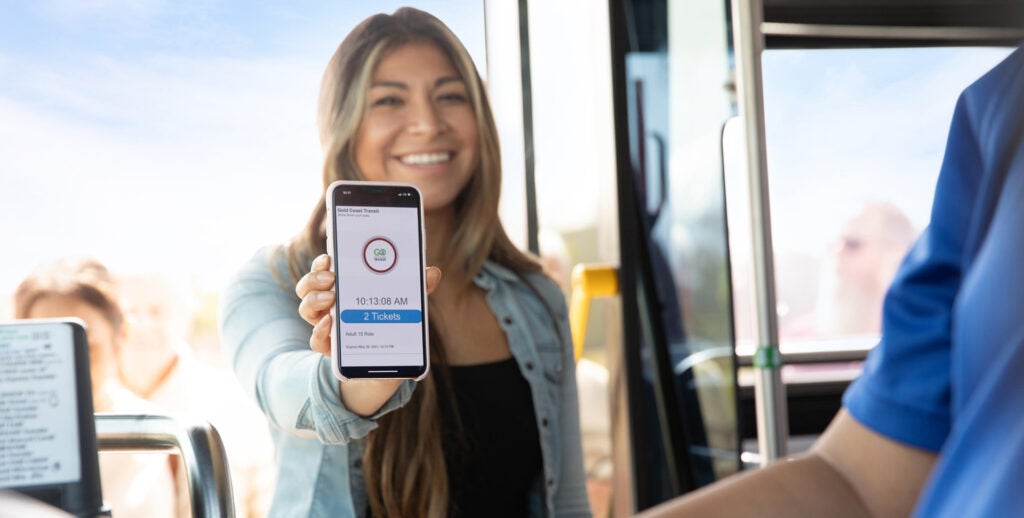 Basics
How To Use Token App
Purchase and store your pass with a smartphone using Token, a mobile ticketing app, and offers an alternative to cash and paper passes while allowing for faster boardings. Simply download the app, link it to a credit or debit card and purchase tickets for immediate or future use.
Token Transit mobile tickets can only be used on Gold Coast Transit buses.
Purchase A Fare

Select a GCT fare type.


Activate Your Pass

When you are ready to ride, tap your pass to activate. All passes are stored in your Token Transit account.  Wait until just before the bus approaches to activate your pass. Activating will initiate the two-hour validity period, similar to a paper transfer.

Ride

Load your pass on your smartphone prior to boarding the bus to avoid delays when boarding.

As you board the bus, show the GCT Operator your mobile ticket. It will contain an image, a word of the day, and the current time of day.  The word must be moving across the screen.  This serves as confirmation to the Operator that your pass is valid.  You're ready to ride!
Fare Capping
Pay As You Go (Fare Capping)
Pay-As-You-Go (fare capping) allows riders to ride for free after they have paid the equivalent of a daily or monthly pass. Each time a pass is activated, the Token Transit system scans the passenger's history to see if the capping applies. If capping applies, the rider will receive the upgraded pass for the remaining amount of time sent directly to their app.

How "Pay As You Go" Works
Eligible Passes

Passes eligible for fare capping are all GCTD time-based passes including, 1 Ride (2hr pass), 1-Day Pass and 31 Day Pass. There is no beginning of a single fare capping window, Token Transit checks fare capping over every possible window.

Remaining Money

When a passenger is $1 over the dollar value of pass activations needed to be fare capped, the passenger will be refunded the $1 back to the payment method used and the refund will show on the agency transfer reports as "fare capped."

15-Ride Pass

Multi-ride passes are not eligible to be included in fare capping. These passes have no expiration date and may be used by more than one person at a time.

If Capping Applies - Examples

If fare capping applies the pass will be sent automatically via text to the customer.
"Pay as You GO" Example: David is a low-income food service worker who rides the bus five days a week to and from work. David is not able to afford to pay the $50.00 upfront cost of a GCTD 31-day pass, so he purchases two single ride passes ($3.00 total cost) each weekday to go to and from work. Before fare capping, he would need to pay over $66.00 a month in fares and limit his travel to save money. Now, with fare capping, David rides twice a day to work starting May 3rd, however, once he has purchased $50.00 worth of eligible 1-ride (equal to the value of a GCTD 31-Day pass) Token Transit triggers fare capping logic. Token Transit issues David a GCTD 31-day pass as if it were first issued on May3rd valid for 31-days. This ensures that David get the benefit of the discounted 31-day pass, with unlimited rides for 31 days price regardless of his ability to pay upfront. He can now ride the bus much more, without worrying about overpaying.
Cash To Digital
Cash To Digital - Convert Cash Payment Into A Digital Pass
This new feature expands cashless and touchless payment options to customers who do not have access to a bank account, debit or credit card without the need for a physical ticket. This feature can be used if you :
Don't have a credit card or a bank account?
Want to send a pass they purchased to someone else?
Don't want to enter banking information in the app?
To use this feature, customers can come to the Oxnard Transportation Center at Customer Service Ticket windows to purchase a pass, and request the pass be sent to their phone (or someone else's) via text message. The ability to convert cash to digital pass improves equity in our transportation network by removing the barrier of needing a credit card or bank account to purchase digital passes.
Policies & FAQs
Passes & Transfers
Which passes are available on Token Transit?
All regularly sold fare categories are available for purchase on Token Transit.
Can I ask for a transfer to complete my trip?
Paper transfers will not be issued. However, each ride is valid for two hours in order to complete your trip.
Can I use my mobile ticket to transfer to a VCTC route or another transit system?
No. Token Transit is currently only valid on GCT buses. Mobile tickets are not a good option for passengers whose trip requires transferring onto another system, including VCTC or the Ojai Trolley.
Once activated, how long do I have to use my 1-Ride Ride Pass?
Single ride passes will expire two (2) hours from the time of activation.
How do I know if my pass is active?
Active passes will be displayed under "Passes in use", which immediately appears when the Token Transit app is opened. The pass will contain an image and a word of the day. The word must be moving across the screen. This movement serves as confirmation to the Operator that the pass is valid.
I'm taking a group on a field trip using GCT fixed route service. Can I use the app to purchase mobile tickets rather than purchasing my tickets in advance at the Customer Service Center or one of the ticket outlets?
Yes. You can purchase a 15-Ride pass, or multiple 1-Ride passes. Just be sure to activate each individual ride using the Token Transit app.
Technology & Privacy
What if my battery dies while my pass is active?
You are responsible for keeping your phone charged while using your pass. Refunds will not be issued if your phone's battery dies while your pass is active.
When do I need an internet connection?
An internet connection/data plan is required in order to purchase your pass. An internet connection/data plan is also required when using your pass for the first time.
What happens to my account if I lose my phone?
Your passes and payment information are linked to the account associated with your phone number. They are not linked to your physical phone. Logging in with your phone number on a new device will restore your previous pass and payment information.
Is my credit card information secure?
All personal and credit card information is securely stored, using Token Transit's encrypted Payment Card Industry Data Security Standard (PCI DSS) compliant server.
What if Spanish is my preferred language. Is this app available in Spanish?
Yes. The language in your phone settings must be set to Spanish.
Payments, Refunds & Receipts
Can I request a refund?
Passes are not transferable or replaceable. All sales are final.
Is there a record of past purchases?
Yes, you can view a log of your past actions by going to your Account Settings and selecting "History". There will be a new entry every time you use a pass.
Can I have a receipt for my purchase?
You will need to include an email address when you register your account. Receipts will be sent to the email address registered to your account.
I don't have a credit or debit card. Can I pay with cash or check at the Customer Service Center and have my passes loaded there?
No. The only form of payment accepted on Token Transit is credit or debit card. The Customer Service Center will not be accepting payments for mobile tickets.
VCBusPass - A Regional Contactless Pass
Powered by Umo.
To learn more about the VCBusPass - a regional, contactless bus pass - please click here. The contactless card and mobile pass are accepted on GCTD buses.