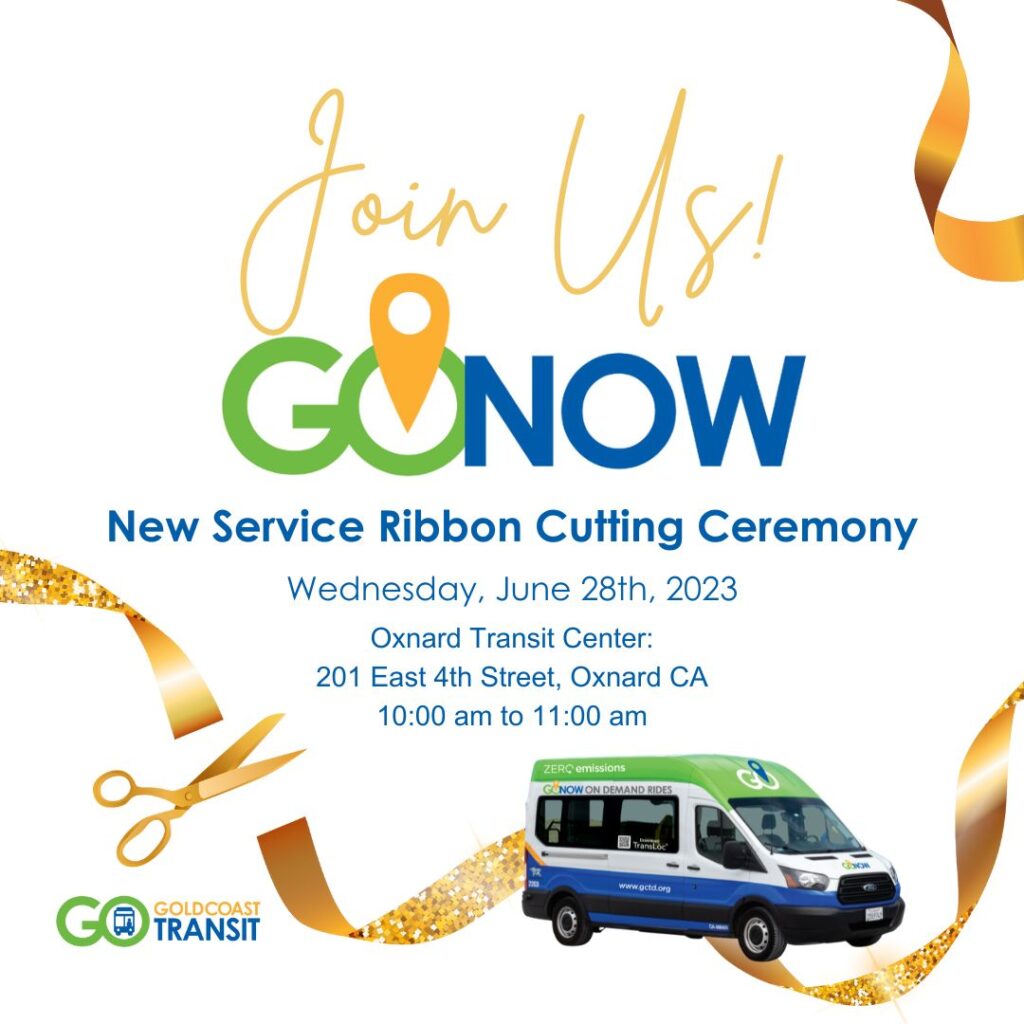 For Immediate Release: Tuesday, June 20, 2023
(Oxnard, CA) – Gold Coast Transit District (GCTD) is pleased to announce the launch of the GO Now on-demand, app-based service providing a first and last-mile connection in the South Oxnard neighborhood. The GO Now service is now available for residents in South Oxnard to travel within their neighborhood to run errands and to connect to the larger transit network outside the service zone.
Passengers can book immediate transportation on GO Now with the tap of a button by downloading the TransLoc mobile app. This shared ride, on-demand model ensures minimal wait times and maximizes convenient traveling in South Oxnard. The GO Now service is designed to help address unplanned, spontaneous transportation needs, creating opportunities for commuters to ride public transportation to local shopping, entertainment, work, and other destinations within the service zone.
The GO Now service zone includes Lemonwood, Cal-Gisler, Diamond Bar, Tierra Vista, Oxnard Pacific Mobile Estates in the South Oxnard area, including destinations such as Center Point Mall, Oxnard College, Numero Uno Market, Clinicas del Camino Real, Inc., Vallarta, Wells Fargo, Wal-Mart, Oxnard DMV, and all other locations in between.
"We are excited to welcome passengers on board GO Now and look forward to providing a seamless and efficient on-demand connection. This innovative neighborhood-focused service will be available for a trial period of one year and will enable us to try new ways to help people get around this busy neighborhood and business corridor." said Vanessa Rauschenberger, General Manager for GCTD.
To fund this service, GCTD partnered with the Ventura County Clean Energy Alliance to apply for grant funds from the California Clean Energy Commission, and partnered with Ventura County Transportation Commission to secure Federal Transit Administration Jobs Access Reverse Commute grant funds that will enable GCTD to operate this service for up to one year. During the initial year of service GCTD will be measuring the efficiency of on-demand service, and getting feedback from the community on app usability, zone boundaries and vehicle type used to see if this new kind of on-demand service should be continued or expanded. Riders will be encouraged to give feedback on the service by emailing comments to customerservice@gctd.org.
How to ride the GO Now On-Demand Service
GO Now operates Monday through Friday, 7 a.m. to 7 p.m. The one-way fare is $2.00. Passengers can request GO NOW transportation on the TransLoc app and in seconds the APP will provide an estimated arrival time of thirty minutes or less. Passengers can track the estimated arrival time and confirm pick-up and drop-off locations. If assistance with wheelchair access or bicycle storage is needed, simply indicate that on the trip request via the APP. Passengers may contact GCTD's Customer Service for assistance with booking and utilizing the TransLoc app at (805) 487-4222.
The GO Now services offer flexibility and convenience for commuters who want to ride public transportation to run errands, shop, work, or for personal enjoyment, such as restaurants or nail shops in the South Oxnard neighborhood. Service is provided in GO NOW and GO ACCESS vehicles to anyone 14 years of age and older.
"We are excited to bring a new type of public transit offering to South Oxnard. The GO Now service is designed to help address unplanned, spontaneous transportation needs. Use the service to go to the library, and when you are ready, you can request a trip, knowing that it will arrive soon. Missed your bus to the OTC? Use GO NOW to stay on schedule and make your connection to the 6, or the Amtrak. We are very proud to provide this innovative, environmentally friendly service that is convenient and accessible to everyone in an area that will greatly benefit from the service." said Margaret Schoep, Paratransit & Special Projects Manager at GCTD.
A ribbon cutting ceremony for the new GO Now service will be held on Wednesday, June 28, 2023, 10:00-11:00 am at the Oxnard Transit Center: 201 East 4th Street, Oxnard CA.
For more information about the GO Now on-demand service, please visit www.GCTD.org/GoNow