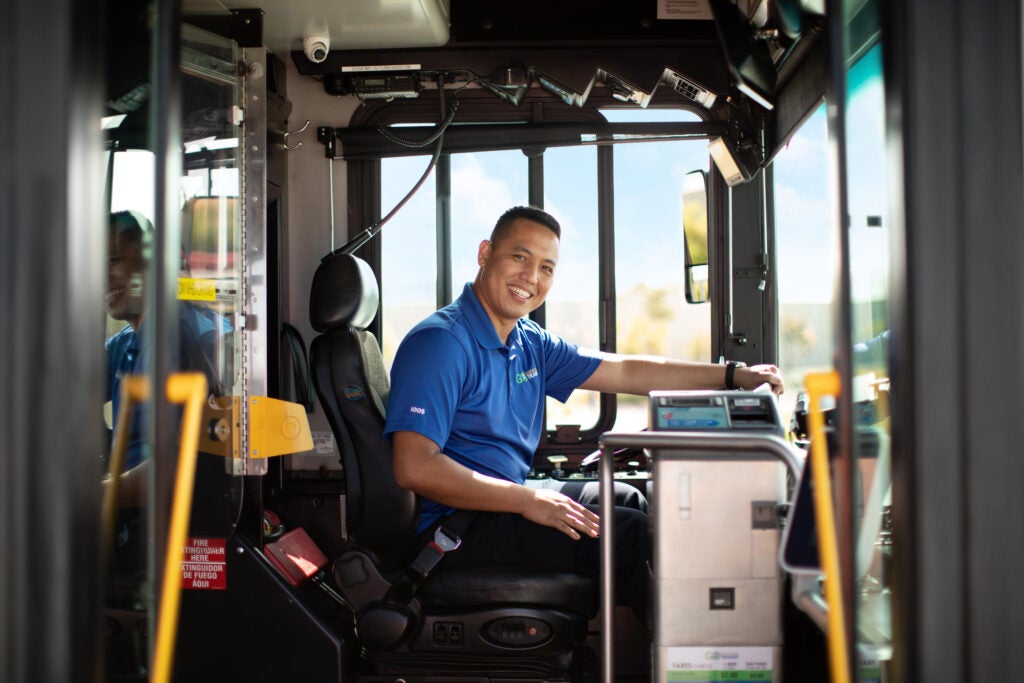 Drive Towards Your Dream Job! Learn How to Become a GCTD Bus Operator.
As a Bus Operator representing the District, you are the face of GCTD. For this reason, we seek customer service and safety-oriented candidates. Start your career with us and you would become part of a team-oriented group of individuals who are passionate about making a difference in the community.
Bus Operators earn $21.75/hour after training and can potentially make up to $29.66/hour. GCTD provides a variety of health care benefits and insurance programs to our employees and their families.
Previous Bus Operator or commercial driving experience is not required. We will provide a paid training program consisting of both classroom and behind-the-wheel instruction. This is an excellent opportunity to learn about public transit and become a skilled driver.
Read below to find out how you can become a Bus Operator for GCTD.
Bus Operator Pay Rates and Benefits
Step A, Training to end of Year 1: $21.75
Step B, Year 2 - Step H, Year 8: $ 22.78 - $29.66
Top Rate: $29.66
A newly hired Bus Operator shall be compensated at the first step for the first year of employment. Thereafter, they will be eligible for subsequent steps after having served one (1) year in the prior step. Full health benefits applied to all newly hired Bus Operators.
Employees are also eligible for additional pay, including bilingual, longevity, and attendance bonuses, and annual cost of living increases.
Bus Operators Wage scale is subject to a Memorandum of Understanding (MOU) with the Service Employees International Union (SEIU).
Excellent Benefits including:
Employer paid contribution for medical, dental, and vision with unlimited number of eligible dependents. GCTD offers a variety of health plans to choose from.
CalPers Retirement Plan
Up to 4.5 weeks of vacation (dependent on length of service)
Sick Leave
12 paid holidays per year
Free transportation on the GCTD fixed route bus service
Group Life insurance
Minimum Requirements
Step 1: Meet Minimum Requirements
Must be 21 years of age.
Must be available to work mornings, nights, and weekends (all employees are off on the following six holidays when there is no service: New Year's Day, Memorial Day, Independence Day, Labor Day, Thanksgiving Day, Christmas Day).
Mus have three (3) continuous years of licensed driving experience (commercial driving experience is NOT required).
No more than one (1) moving violation in the past three (3) years.
No At-Fault accidents in the past three (3) years.
No "Failures to Appear" or "Failures to Pay" in the last three (3) years.
No suspensions in the last three (3) years.
No Reckless Driving (23103) or driving under the influence (DUI - 23152) in the last seven (7) days.
No pattern of irresponsible driving or irresponsibility related to driving.
Other violations and/or accidents will be reviewed on an individual case basis and may be cause for non-selection.
Must be able to obtain, at your own expense, a CA Class B learner's permit with both Passenger (P) and Air Brake endorsements. (You do not need a Class B license or permit to apply for this position).
Must pass a Department of Transportation (DOT) physical examination, including drug and alcohol screening tests.
Must pass criminal background check with the Department of Justice. All eligible candidates will be fingerprinted and screened for criminal history.
Physical Requirements
For Driving by Federal Regulations:
Have vision at or correctable to 20/40 (Snellen), a field of vision of at least 70 degrees in the horizontal meridian in both eyes, and recognize the colors red, green, and amber.
Possess hearing in at least one ear allowing the perception of a whispered voice at five (5) feet.
Not currently have a diagnosis of diabetes mellitus requiring insulin for control, epilepsy or similar, myocardial infarcation, angina pectoris, coronary insufficiency, thrombosis, or any other cardiovascular disease of a variety known to be accompanied by syncope, dyspnea, collapse, or congestive heart failure.
Have no loss of a foot, leg, hand, or arm, and be able to bend and control all of said limbs in order to grasp or push and otherwise operate all driving controls in a skillful manner without prostheses.
By District Standards:
Ability to sit without discomfort for prolonged periods of time on a variety of driver's seats in different models of buses, and fit behind the steering wheel with clearance between abdomen and wheel.
Turn head up to 180 degrees in either direction on a regular and frequent basis.
Walk to enter and exit the vehicle.
For Wheel Chair Tie Downs:
Ability to to bend, crouch, and/or kneel and balance while simultaneously manipulating and fastening tie-down straps.
In Person Interview
After initial screening of applications for minimum qualifications, the qualified applicants will be invited for an in-person interview. Failure to pass the in-person interview will result in disqualification.
Review of DMV Driving Record INF 70
Candidates who successfully pass the in-person interview will be notified by email to submit a current DMV driving record from the California Department of Motor Vehicles. If the candidate has been out of California for all or part of the past ten years, a 10-year DMV printout from the applicable state/country must be submitted. (Note: The printout must be dated within 30 days of the request).
If the DMV printout indicates accident(s) in the past three years, the applicant must provide an insurance report or police report showing that the applicant did not contribute to the cause of the accident. Failure to submit your DMV printout in the designated timeframe will result in disqualification.
More information on the INF 70 is available here.
Fingerprinting and Background Check
Eligible candidates will be required to be fingerprinted and complete a Conviction History form. Failure to disclose pertinent criminal background information or providing incorrect or false information is considered falsification, and results in disqualification. A conviction is not necessarily a bar from employment. Each case is given individual consideration on a case-by-case basis.
Physical Exam, Drug and Alcohol Screening
Candidates will be required to pass a Department of Transportation (DOT) physical examination, including drug and alcohol screening tests (Examination and tests are paid for by the District). Failure to successfully pass the exam and screening tests will result in disqualification
License and Permit
Candidates will be required to obtain, at your own expense, a Class B commercial learner's permit with both Passenger (P) and Air Brake Endorsements prior to starting the Bus Operator training program. Failure to obtain the required permit and endorsements will result in disqualification. To apply for a Class B leaner's permit visit this page.
Employment Verification
Candidates will be required to provide two (2) professional references. One of the references must be from a current or former supervisor. Failure to submit your references during the specified time period will result in disqualification.
Bus Operator Full Paid Training Program
Upon hire, new Bus Operators will begin their employment by attending a comprehensive Operator training program. The nine (9) week paid training program will include both classroom and behind-the-wheel instruction. All employees must successfully complete the entire Operator training program consisting of both classroom and behind-the-wheel instruction. Failure to complete the training program will result in termination.
Ready to Apply?
Applications are accepted through our online portal. When positions are open, they are listed here. For any additional questions, feel free to contact Human Resources at (805) 483-3959 x 124.